We believe that faith is nurtured in community. We are committed to regular Bible study, children's Sunday School, adult faith formation, and other community-building activities.
We have a number of regularly scheduled ministries designed to cultivate and nurture faith:
---
Bible Study
Thursday mornings from 10am -11:30am in the library (upper level). Bring your favorite Bible!
---
Confirmation Class
Theology, worship, and Lutheran Living classes (study of the Small Catechism) are taught as part of our confirmation program. Students in grades 7-8 are encouraged to attend these classes leading up to their Affirmation of Baptism upon completing the classes, commonly referred to as "confirmation."
Confirmation classes are scheduled at various times throughout the year.
---
Communion Instruction
Whereas the gift of Christ's presence in Holy Communion is for everyone, and that Jesus insisted "let the little children come to me," we offer the sacrament of communion to people of all ages. However, this is always at the discretion of parents/guardians.
We offer instruction on communion practice for children at various times throughout the year.
---
Mindfulness Meditation Classes
A meditation group meets every Tuesday at 6:30pm in the sanctuary, with instruction, teaching, and discussion. This meditation class is appropriate for beginners and experienced meditators alike, and no experience is necessary.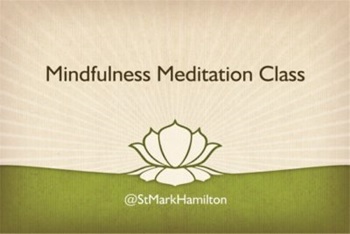 St Mark Lutheran Church is offering mindfulness meditation classes that are great for newcomers and experienced meditators alike.
Every Tuesday from 6:30-7:30pm.
The classes incorporate a variety of meditation practices and discussions. A minimum donation of $5 per session is suggested.
What to expect
No experience is necessary. In fact, a beginners mind is is the perfect state for meditation!
It is advisable to wear comfortable, loose-fitting clothing (including shoes that are easy to remove).
Our meditation space is equipped with zafus and zabutons (meditation cushions), as well as chairs. You are also welcome to bring your own meditation cushion.
Those new to meditation are encouraged to arrive 15 minutes early for instructions.
---
Fellowship Events
We celebrate together with a variety of social events throughout the year, including things like a monthly game night and 40+ luncheon. Sign up for the newsletter to get details on upcoming fellowship events.